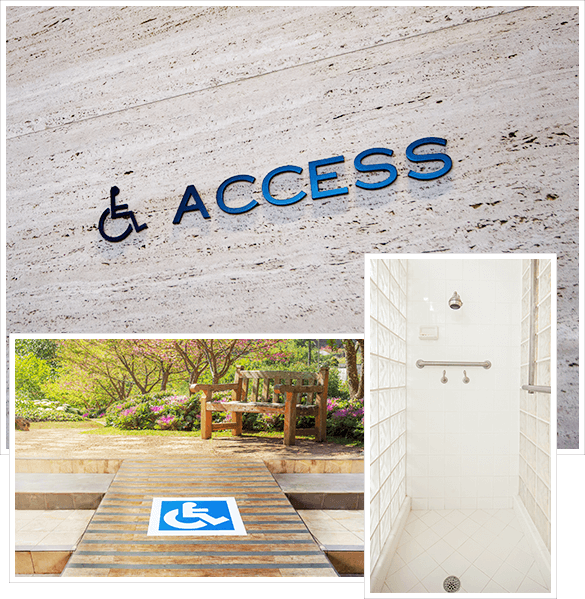 CVC Hospitality specializes in ADA compliant construction and renovation services and can bring your existing property into compliance or ensure your new development is safe and inviting for your disabled guests.
Failure to comply with the ADA guidelines can result in lost revenue from potential guests and also invites needless expensive lawsuits.
Below are examples of ADA Requirements for the Hospitality Industry:

Proper Number and Layout of Handicap Parking
Property Wheelchair Access
Number of ADA Guest Room Requirements per Building
Bathroom Requirements for Room and Public Areas
Wheel Chair Accessible Roll-In Showers
Doorway Widths and Knobs
Light Switch Placement & Heights
Grab Bar Heights and Placement
Water Fountain Clearances
Requirements for Hearing Impaired and Vision Impaired
Strobe Lights for Alarms
Accessibility at Transaction Counters and Registration Desks
There are over 100 pages of guidelines. Do you know if you have them all covered?
ADA (Americans With Disabilities Act): Passed early in the '90s, this civil rights act leaves businesses that serve the public, (hotels, timeshares, resorts, condos, restaurants, stores, etc.,) open for discrimination lawsuits. If your building or property does not comply with both Federal and State ADA design requirements, a lawsuit is inevitable.
Even if your building was constructed before 1990, there is no "Grandfather Clause" that excludes you. It is a civil rights act, not a building code. If your property does not meet the requirements, then you are discriminating against those with disabilities. ADA / Handicap Access Discrimination claims have risen dramatically in the last decade.
Most Companies receive a letter requesting anywhere from $4,000 dollars to $12,000 dollars for damages. This is in addition to the lawyers fees they will also asked to be reimbursed for (an additional $5,000 – $10,000). Then you will also be required to make the necessary upgrades to become ADA compliant. This is an enormous unneeded expense. Smart companies are having their properties inspected for ADA compliance.
Contact CVC Hospitality today to see if your property meets the guidelines and for a plan to become compliant and avoid potential lawsuits.